Continuous hardening and tempering furnace for casing/tubing/drill pipe
Typical continuous hardening and tempering furnace, capable of reaching production capacity of 4 ~ 15t / h or more, usually consists of the following components:
① A set of collecting & loading platform, used for collecting the bundles of pipes and send single pipe into the following roller.
② A system consists of several sets of "special design" rollers, which will run through the entire heat treatment process.
③ A set of induction inverter (usually transistor IGBT technology) as a power supply, at the correct frequency, used for austenitizing, tempering and heat preservation area.
④ A number of sets of inductor groups, each consisting of several individual heating coil. The bar or pipe will go through them for heating of austenitizing and tempering process.
⑤ A set of quenching station, including the "special design" shower head, which is used for spraying for austenitized material.
⑥ After hardening and tempering process, the bar or pipe will be transported to the cooling bed for cooling gradually.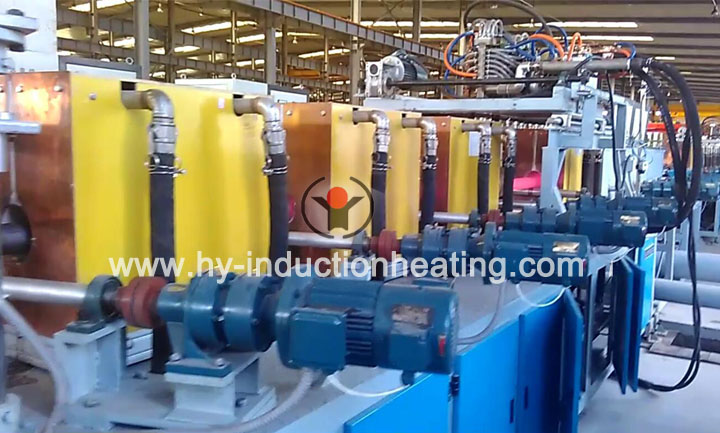 YuanTuo has developed a unique, proven, rugged and extremely reliable solution for pipes used for oil industry, also suitable for the pipe with EU pipes.This solution has been successfully applied to a new induction hardening and tempering line in Philippines plant 3 years ago.
The automotive industry has shown a preference for induction hardening and tempering, which currently includes systems such as power systems, suspension systems, motor shafts and safety equipment such as door frames and airbag tubes. This is of course due to the advantages of the above induction heating technique. Similarly, the construction industry has shown similar preferences, including machinery, screw machine components, oil and water separation cans and crane arms.
In addition, the company's hardening and tempering furnace is characterized by its very competitive operating and investment costs, wide range of applicability (tubing, thickened tubing, casing, thickened casing and perforating guns, etc.) In some specific areas, the effect of self-marketing has been generated, triggering more profitable investments.
Contact person:Tom Wang
Email:yuantuodianlu@163.com
Phone: 0086-13303078975(whatsapp, wechat,line)
Specialist of billet heating furnace  and system in China; Glad to be your business partner in induction heating field.
---
Post time: 02-08-2018