ø45-115mm bar continuous hardening and tempering furnace delivery
Bar continuous hardening and tempering furnace is YuanTuo strength and also the project that YuanTuo recommend. Recently we accepted an other of bar continuous hardening and tempering furnace, but the bar size range is a little big, the diameter is from 45mm to 115mm. This makes it difficult that using one hardening and tempering equipment to finish 45-115 mm bar heat treatment. One point is the process will be complex than single bars; another point is that different diameter need different frequency to achieve heat treatment.
Fortunately, YuanTuo new type power supply can achieve this project. The customer was very satisfied after visit our factory and discussing with our engineer team. Our rich experience and knowledge for the bar continuous hardening and tempering process has persuaded this customer to choose our company as their business partner.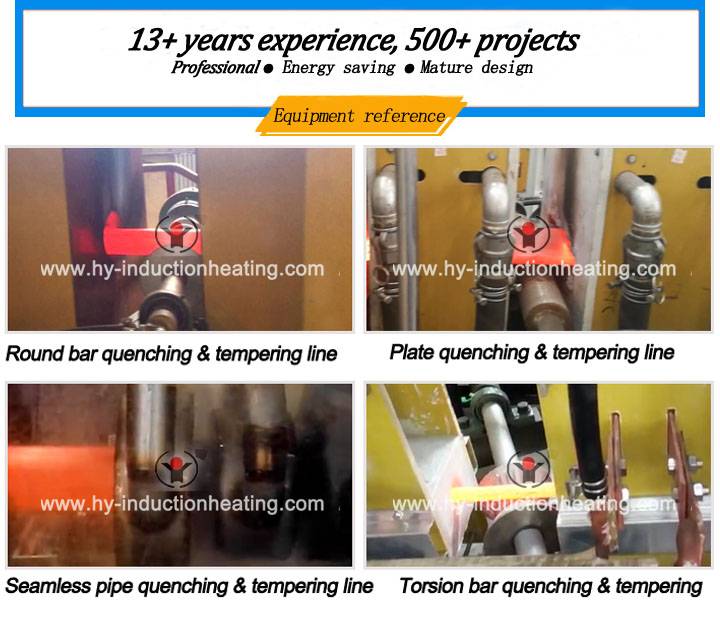 Thanks for the trust and support to this Guangzhou customer, YuanTuo finally finish ø45-115mm bar continuous hardening and tempering furnace after 60 days and take one month to finish the heat treatment parameters testing and set for all the bar sizes. Now the line is running well in Guangzhou customer plant. From the recent communication from them, we know that they are planning to buy another line for bar continuous hardening and tempering furnace .The bar size is 16-35mm. After Chinese festival holiday, we will go to discuss details with Guangzhou customer.
Composition for continuous hardening and tempering furnace
1.Quenching IF power supply: KGPS700KW
2.Tempering IF power supply: KGPS550KW
3.Quenching, tempering inductor (including capacitors, waterways, gas, etc.)
4. Closed cooling system for power supply and inductor.
5.Copper wire (power cabinet and the connection between the induction furnace)
6.Automatic input and output system (workpiece rotation while feeding at the same speed and smooth operation, speed adjustable, more uniform heating)
7.Quenching, tempering infrared temperature measuring device ( United States Raytek infrared thermometer can real-time display the workpiece temperature).
8.Water spray system
Contact person:Tom Wang
Email:yuantuodianlu@163.com
Phone: 0086-13303078975(whatsapp, wechat,line)
Specialist of billet heating furnace and system in China; Glad to be your business partner in induction heating field.
---
Post time: 02-15-2018