Anchor bolt induction heater
YuanTuo is Anchor bolt induction heater factory and exporter in China. The offered Anchor bolt induction heater are precisely manufactured by our knowledgeable professionals using latest technology and superior quality materials. Forever is a prominent name in manufacturing and supplying a wide range of Anchor bolt induction heater for our reliable clients.
 Our anchor bolt induction heater is suitable for anchor bolts from 1/4″ to 4 1/2″ , and metric equivalents, diameter in carbon, alloy and stainless steel. You only need to tell us your anchor bolt diameter,length and production capacity.Then we will deign and produce anchor bolt induction heating equipment for you.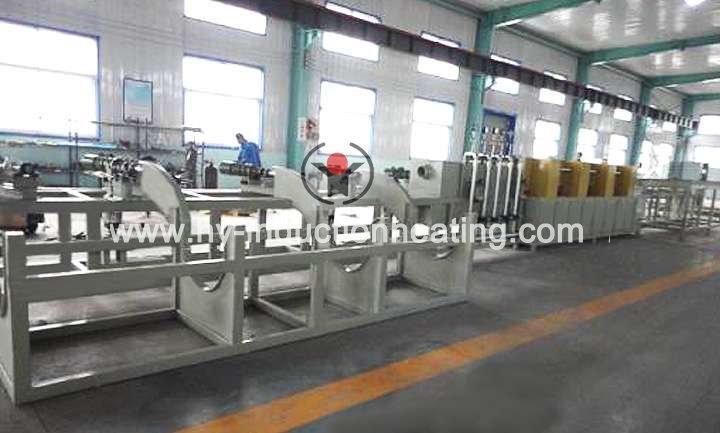 YuanTuo induction heat treating equipment performance features
● Transmission roller table: The angle between roller axis and work piece axis is 18 ~ 21 °. The work piece is rotating and go forward at the uniform rate for uniform heating. Rollers between furnace are 304 non-magnetic stainless steel and water-cooled.
● Roller table group: Independent control for feeding group,inductor group and discharging group,which is beneficial to continuous heating to avoid work piece gap.
● Temperature closed-loop system: Both hardening and tempering process used closed-loop control system which consists of America Raytek infrared thermometer and German Siemens S7 with high precision temperature control.
● IPC system: Powerful functions including the display of the current working parameters status, work piece parameters memory, storage, print, fault display and alarm and so on.
▲ Energy transformation : The power consumption is 280-320 KW/H with hardening and self-tempering mode.
Recommended:
Induction hardening furnace     Induction forging equipment     induction heating furnace
Induction billet heating furnace     Steel Ball Production Line      bar induction hardening equipment
---
Post time: 11-03-2016