Plate surface hardening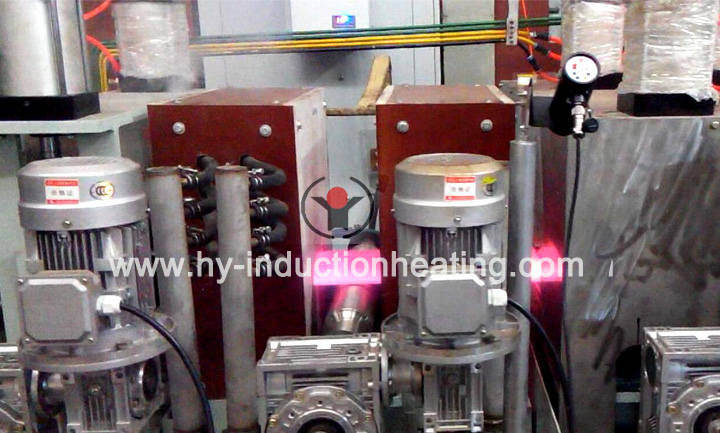 Features:
| | |
| --- | --- |
| Material | 40Cr, 40MnB, S45C |
| Process | Hardening, quenching |
| Quenching temperature | 920-930℃ |
| Power required | 100-5000KW |
Product Detail
Application Video
Product Tags
Plate surface hardening furnace mainly consists of three parts: medium frequency power supply, quenching control equipment (including inductors) and quenching machine tools. Induction hardening method is a main surface quenching method in the modern machine manufacturing industry, and has a series of advantages such as good quality, high speed, low oxidation, low cost, good working conditions and easy realization of mechanization and automation. According to the size of the workpiece and the depth of the hardening layer to determine the appropriate power supply and frequency (it can be power frequency, intermediate frequency and high frequency). The shape and size of the inductor mainly depends on the shape of the workpiece and the requirements of the quenching process.
Site case for plate surface hardening line
| | |
| --- | --- |
| Product name | Plate surface hardening line |
| Brand | Yuantuo |
| Material | 40Cr, 40MnB, S45C |
| Process | Hardening, quenching |
| Quenching temperature | 920-930℃ |
| Power required | 100-5000KW |
 Features of plate surface hardening furnace
1. Our plate surface hardening furnace has advanced performance, convenient commissioning and application, and satisfies the quenching process requirements for complex workpieces to the greatest extent.
2. All the quenching process parameters will be saved in the system, you can call the required receipe when you want to quench any type of the plate. The quenching depth and speed can be adjustable as per requirement.
3. The plate will have deformation or crack after quenching process.
4. The electrical control system of plate surface hardening furnace set interface for heating and cooling water pipe. As per customer's need, the quenching and cooling process can be controlled.
5.Low operating costs, the workpiece running the drive motor is only 180W, the entire machine consumes less than one-fifth of mechanical equipment.
Remote Console of plate surface hardening furnace
The system can record, save, inquiry and print the production parameters including heating temperature, production capacity and power supply running parameters etc. According to technical requirements, the system will automatically record and analysis the parameters changes and predict fault and alarm. Remote control the whole system and automatically generate various reports to achieve the traceability of the production process.
Technical documents provided by seller for the plate heat treatment furnace
1. Equipment layout drawing, foundation drawing, water & power circuit diagram
2.Electrical schematic and external wiring diagram
3. Control electrical schematics
4.Equipment operation, maintenance instructions
5.Introduction for main outsourcing parts.
6.Equipment inspection certificate, factory packing list
Specialist of billet heating furnace and system in China; Glad to be your business partner in induction heating field.